Can you imagine for a moment to be away from the crowds, noise and stress of everyday life, sitting on a kayak in the complete silence of a dawn, above a sea that looks like a mirror?
We are talking about kayak fishing, a discipline that is becoming increasingly popular also in Italy but which has its roots in the dawn of time.
Practicing kayak fishing, as it is easy to understand, means fishing aboard a kayak. As far as kayak fishing is known, in its most modern sense, it was born and raised in the United States and more precisely along the coast of California.
Here, Tim Nemier, then founder of the well-known Ocean Kayak, starting from a fiberglass surfboard, began to produce the first Sit-on-Top paddle kayaks that is with the seat above and not inside the hull, different from most traditional Sit-In kayaks used for touring (with the seat inside the kayak). These first fishing kayaks were mainly intended for short trips during underwater fishing sessions but quickly found use for other techniques as well, so much so that they immediately became very popular with local fishermen.
Starting from the mid-1980s, the introduction of rotational molding and the use of polyethylene in the production of kayaks allowed its production on an industrial scale at low prices.
The popularity of kayak fishing is in fact due to the combination of a relatively low purchase price and very low maintenance costs compared to a common boat as well as a much more natural approach to the fishing environment. Kayaks can be easily transported on the car roof without the need for a trailer and stored in small spaces. Another feature that makes kayaks perfect for fishing is the ability to quietly access almost anywhere, even in very small stretches of water, in shallow waters and in areas often closed to other types of boats.
A turning point in the world of kayak fishing came in 1997, when Hobie permanently revolutionized the market by introducing an efficient "pedal" propulsion system for the kayak. This new propulsion system and the consequent possibility of having your hands free to fish have marked a significant advance in kayak fishing and an exponential growth of its practitioners over the last nearly three decades.
An infinite number of companies quickly sprung up around kayak fishing, producing products and accessories for setting up kayaks during fishing sessions. Whether paddle or pedal, modern fishing kayaks can be equipped with a large inventory of accessories. Websites and pages on social media dedicated to DIY were born where yakers from all over the world exchange solutions and advice to modify their "fishing mates" ad hoc.
As previously mentioned, kayak fishing can be practiced in any body of water, both in inland waters and in the sea. There are many fishing techniques that can be practiced. In inland waters or river mouths, the most widely practiced techniques are fly fishing but above all spinning.
With small kayaks, very manageable even in tight spaces, you can silently reach the banks of rivers, and undermine a wide range of predators among the reeds or in the dense vegetation.
Kayak fishing finds its most natural place in the sea; all fishing techniques can be practiced from kayaking including trolling, spinning, bottom fishing and all vertical techniques that have recently come to the fore (light jigging, slow jigging, inchiku and kabura, sabiki fishing, etc.). In colder periods fishing sessions dedicated to cephalopods, cuttlefish, squid and octopus practiced by trolling or eging is unmissable.
However, the desire to go kayaking and spend a carefree day should not make us forget that at sea, before having fun, we must think about our safety. Anyone who wants to approach kayak fishing must respect some safety rules and common sense. For example, always fishing in groups or at least communicating to someone where you go fishing is often a wise choice. Before going out to sea it is always important to check the weather and sea conditions and it is absolutely not recommended to go out in fog, rough sea or strong wind. During our sessions it is necessary to always wear a buoyancy aid device, have a good rope-cutting knife at hand, sound signaling devices (a whistle or a boat horn) and everything needed for first aid. It is also advisable to always have the mobile phone well charged with you or some electronic safety devices such as LPD / PMR walkie talkie or VHF radio. Sunglasses, sun protection, quality technical clothing, something to eat and a good supply of drinking water are indispensable in every summer and winter outing.
With considerable delay compared to the United States, for about fifteen years kayak fishing has also landed in Italy, at first among a small group of pioneers but, in recent years, arousing the growing interest of an increasingly vast public.
The Mediterranean Sea and in particular our coasts are excellent for kayak fishing as they often offer favorable weather conditions and a relatively mild climate for a large part of the year.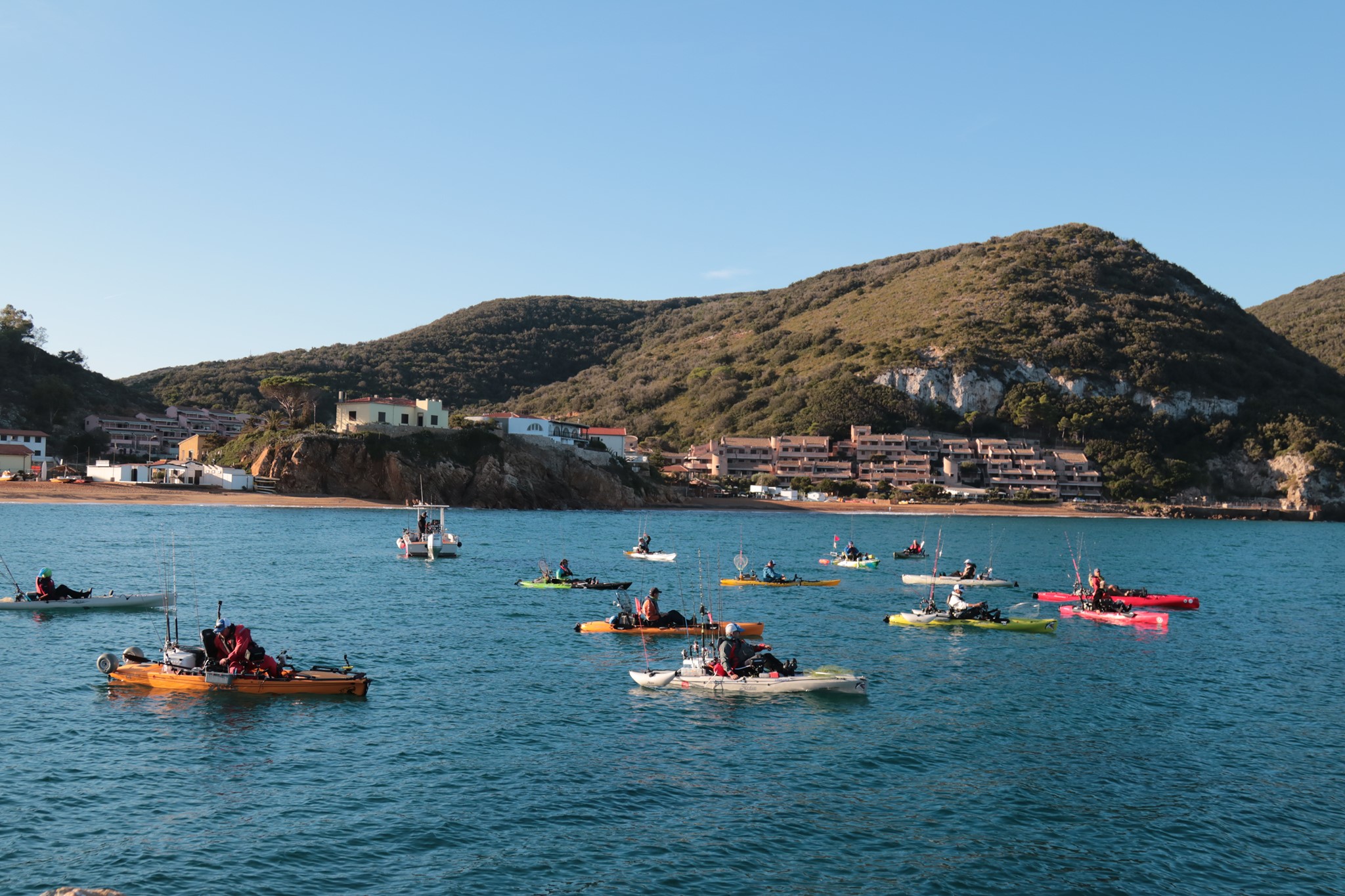 Many forums and pages on the various social channels have formed around our local kayak fishing, a source of valuable advice and places for comparison.
Amateur sports clubs were also born, the main purpose of which is to make this fantastic discipline known and to gather around it enthusiasts from all over Italy. Among these, Kayak Fishing Italia (KFI) and Toscana Kayak Fishing (TKF), are certainly among the first, best known and among those that group the most enthusiasts.
In addition to an Italian kayak fishing championship, there are numerous sporting competitions on a national and international scale that take place in Italy, both in inland waters and in the sea. Many of these (not all) follow the philosophy of Catch, Photo and Release where the prey is captured, photographed for the necessary measurements and released without causing any damage. Just think of the "Branzino The Challenge", the most important international sea bass fishing competition that takes place from kayaks exclusively with artificial lures, organized by the Italian association Insidefishing, in the Orbetello lagoon or at the Interlaghi Kayak Fishing Championship which takes place among the most beautiful lakes in Italy.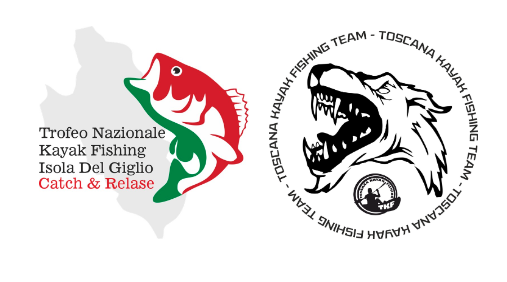 Only in 2021 the Catch, Photo and Release also landed in the Kayak Fishing competitions held at sea, on the occasion of the first edition of the "Isola del Giglio National Kayak Fishing Trophy - Full Catch and Release" organized by Toscana Kayak Fishing.
Kayak fishing is not just an alternative way of fishing but it is a direct approach to the fishing environment and to fishing itself that allows those who practice it to fully enjoy a day of fishing beyond the catch.
Alessio Di Roberto, Toscana Kayak Fishing.