Books have been written, debates on forums and social networks, we have decided to dedicate an article to "the little ones" and summarize some tips based on 11 years of experience with children of all ages on board.
Children on board? Obviously YES. First of all, it must be said that children can get on board even if "they are still in their container". If the pregnancy is going well and you don't suffer too much from nausea, sailing is not a contraindication. If the spaces are not too narrow (because obviously it is not you who are too big, but the spaces are the ones who have shrunk) everything is possible, just be careful not to overdo it with risky movements and tiring navigations .
Even if you are as big as a watermelon and you can hardly pass through the doors, but you don't want to give up on the boat, this is a good opportunity to lie down and laze all day and get served and revered by your captain... but, as soon as he is he realizes that in the end there is no lack of energy and enthusiasm… Then he will immediately put you to work!
Once the babies are born why deprive us of what is vital for us: the sea, the wind and the sailboat? There are many reasons why we believe it is important not to let children miss this wonderful experience. First of all, we try to make our children and all the children who come aboard with us breathe that visceral, boundless, immense sense that is called: FREEDOM. It does not matter if they are babies or older children, this sensation can be savored at all ages and will be the best memory they will carry inside after a holiday at sea and not at sea!
When we talk about children on board we often read in the eyes of super apprehensive mothers, grandparents or fathers, terror, as if apocalyptic scenes of children fallen into the water and devoured by sharks were appearing in their heads. Fortunately, this is not the case, it has never happened to us that we have to recover a child who has fallen into the sea, but it has happened to friends. Safety comes first, but there are also other aspects that should not be neglected and often come from the questions of the children who come aboard with us for the first time like: "can we eat on the boat? how do we sleep? and what do we do?".
Here are some tips that we have summarized after 11 years with children on board.
Safety on board
THE NET: Certainly for many it is unwatchable, for others it is uncomfortable in maneuvers, for those who tie it up it is a hellish shock (that is ME), but undoubtedly it is a good deterrent to not roll anything in the sea, including children.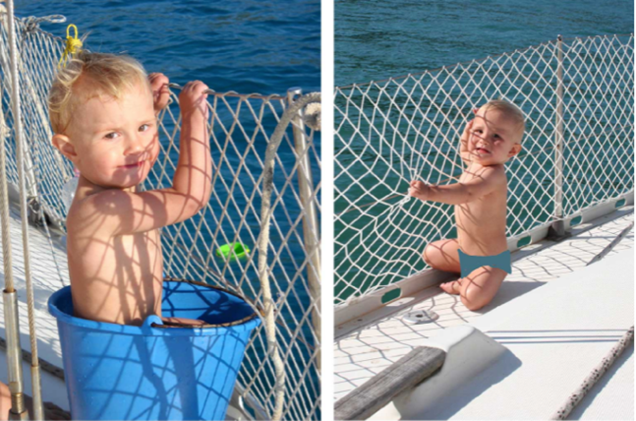 HARNESS: If you do not have a well-sheltered cockpit, as in our first boat, the best way for children to wander around safely is a harness with a long webbing that follows it and runs along the life lines.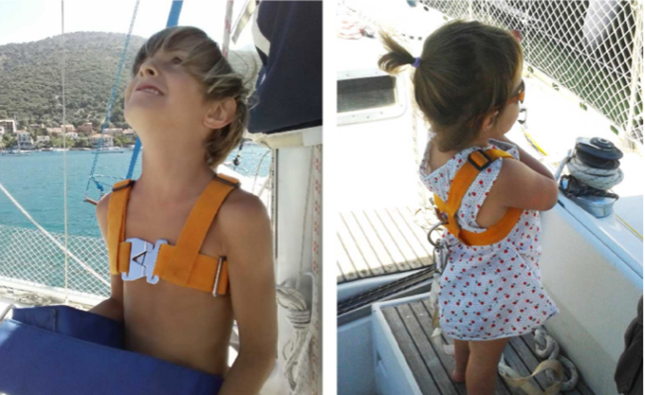 SELF-INFLATABLE: when the navigation is more intense, rough seas and challenging wind, we have always opted for self-inflating vests. For them they are a bit annoying, it is an endowment that must NEVER be missing.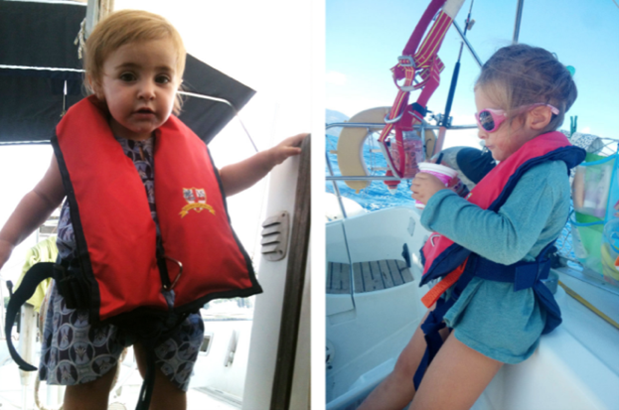 Essential items
SMALL DECK CHAIR: is always a winner: foldable, light and washable. Nina, she went on board for her first time at 4 months, she sailed for two months between Corsica and Sardinia; while sailing she was there inside her and spent her time playing with what she found around her, or just contemplating the sea.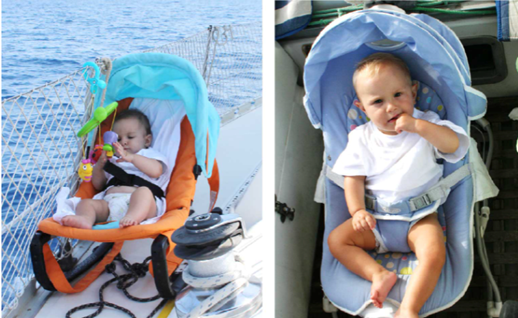 BABY SLING: We used two different types: the classic Baby Bjiorn for when they were younger and then we switched to Ergo baby, which we used up to their 3 years; enveloping and comfortable in the seat, not bulky and 100% cotton. We used it both in navigation and to go ashore for excursions.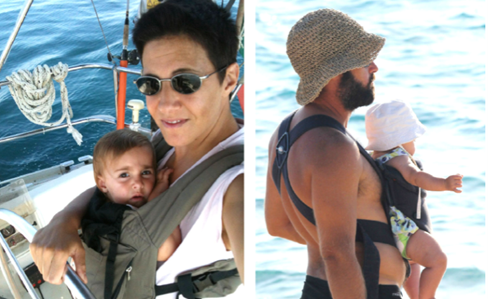 STROLLER: If the layout of the boat allows it, the stroller is also a valid alternative to keep the little one, not in navigation and with the brake !!! However, those with umbrella closure and ultralight are very comfortable, often they are easy in a locker or tied to the stern or ulle lifelines.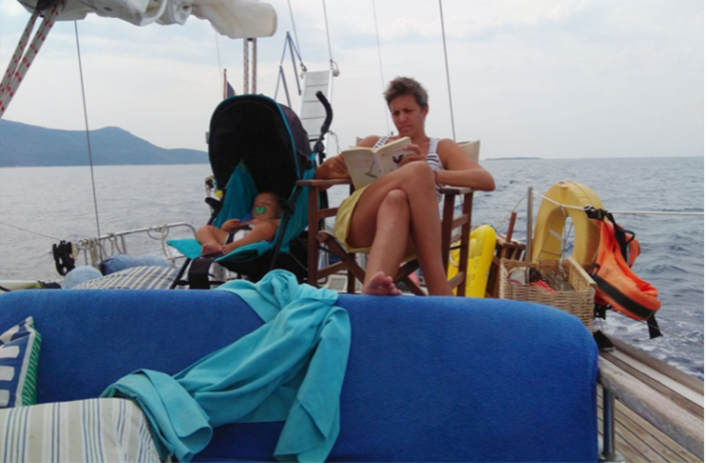 HIGH CHAIR: An interesting thing that we have adopted for the moment, is the classic Ikea plastic high chair, we have stuck it on the cleat or in any case tied it in some way. Practical and functional.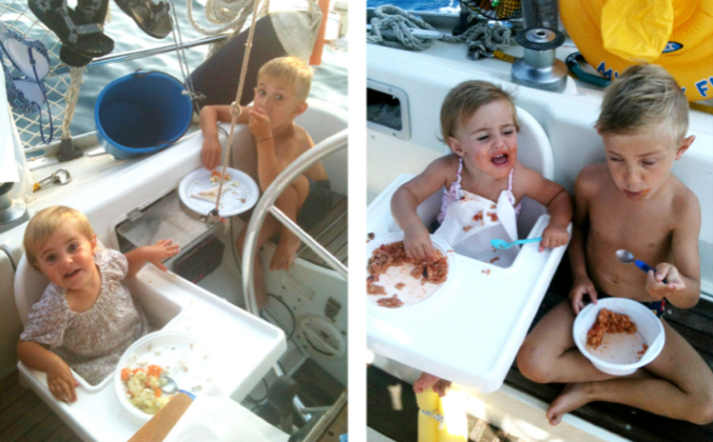 "SWIMMING POOL": As long as they are small it is always useful to keep an inflatable swimming pool on board, or even the bucket is fine and good reason as well as having fun also to cool the children when the summer heat is felt.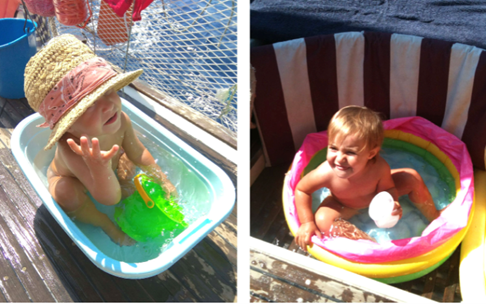 LIFE JACKETS AND ARMRESTS: Whether they are armrests or life jackets, pant suits or classic donuts, these objects cannot be missing and often the armrests are an extra safety in navigation as an alternative to the inflatable.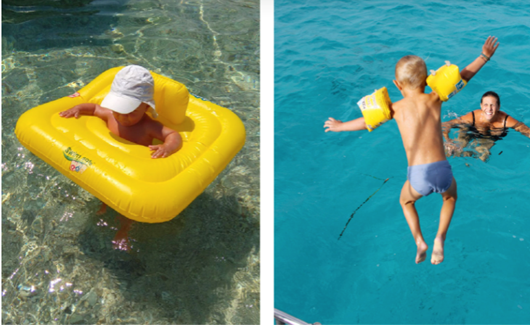 …But the real revolution for us was the legendary BUMBOO. A simple, practical, economical, washable, that is practically perfect: rubber seat! All three of our children used the legendary Bumboo, useful at home but essential on board. We put the children in there as soon as they started sitting alone and from there they never let go until their thighs didn't fit. This support is everywhere, children alone cannot get out, but they are comfortably seated and independent.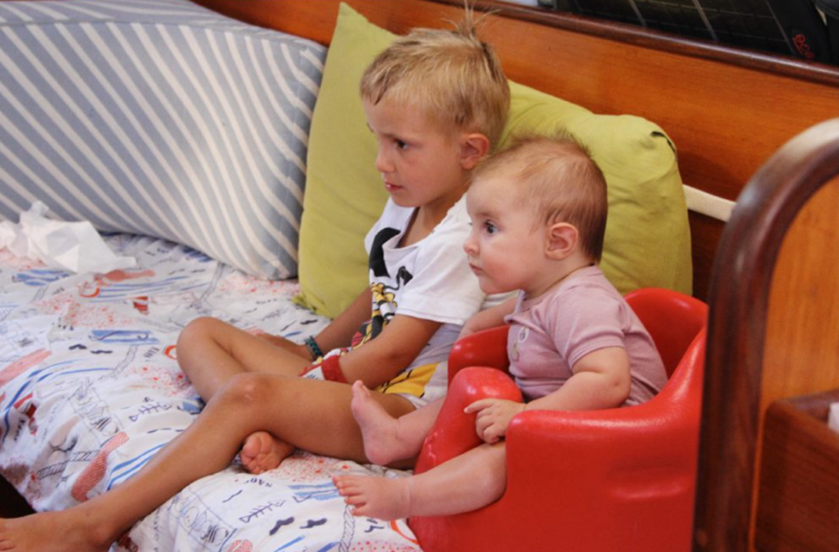 Password: shadow
On a boat, exposure to the sun's rays is practically unavoidable, glasses, cream, hat and t-shirt are a must, even if the hat ends up in the sea at the first turn, glasses are just a nuisance, but you can't give up on cream. The most important thing is to always have shade, especially in the hottest hours, whether it's a awning, a sarong or the shade of the sails, shelter from the sun on a boat is essential.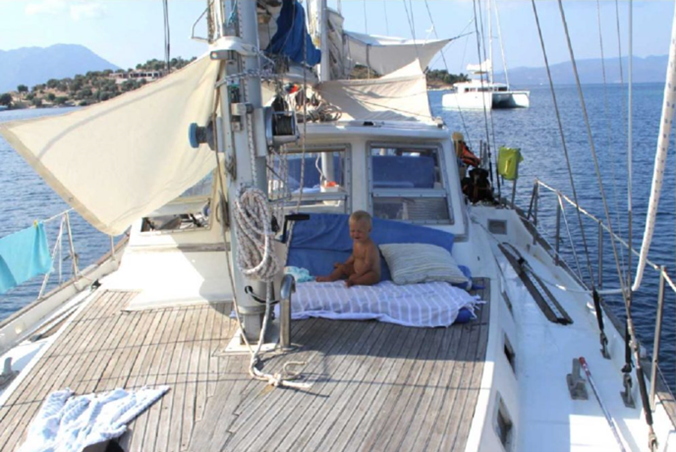 Sara Rossini, Sailing Shibumi
Publication of the images above is approved by Sara Rossini